23 Dec 2022
Celebrating NHS Net Zero Champions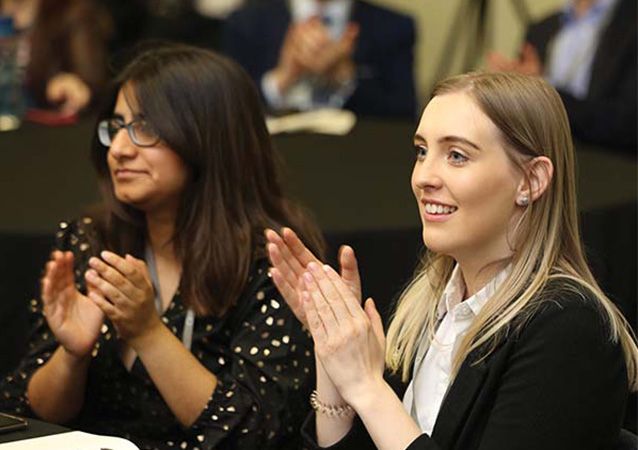 The Innovate Awards are a fantastic celebration of all the brilliant people within the NHS who see an opportunity for improvement and make it their mission to deliver.
As active supporters of the NHS Net Zero commitment, Boehringer Ingelheim was proud to sponsor this year's Net Zero Award, and I was personally thrilled to hand over the award to the winner.
The whole evening was inspiring from start to finish. It was an honour to be in a room with so many people passionate about driving change. As we know, the climate emergency poses a threat to health and it was great to be a part of an awards ceremony that recognises the link and champions those who care deeply about the wellbeing of both people and our planet.
Positive change is possible because people are going above and beyond their day jobs to help the NHS evolve. They are inspiring others by paving the way to a more sustainable future. For me, all the shortlisted entrants should be celebrated and recognised for thinking differently to help the NHS progress towards Net Zero and address the wider societal concerns of climate change.
Throughout the evening it was motivating to hear such a variety of sustainable solutions to everyday challenges. In-house developments such as the Context of Vehicle Emissions (COVE) tool from Kent Community Health NHS Foundation Trust are providing insights into opportunities for route optimisation. A different but equally impressive project, conducted by Leeds Institute of Emergency General Surgery, is directly reducing the carbon footprint of laparoscopic appendicectomies.
The pandemic increased medical waste and made it more visible than ever. In 2020, a staggering 102 million disposable facemasks were thrown away in the UK each week. It's vital we find ways to change this. That's where Yorkshire Ambulance Service NHS Trust's 'Reusable Facemasks for a Net Zero Health System' project is making a difference. The Trust spearheaded a national initiative to trial reusable facemasks, providing a blueprint for greener procurement. It's no surprise this initiative was highly commended.
There is mounting pressure for the global healthcare supply chain to step up its efforts to become more sustainable. It's a huge piece of the puzzle that we must tackle. This is where Newcastle upon Tyne Hospitals NHS Foundation Trust have shown what can be done and were the worthy winners of the Innovate Net Zero award for their project 'Towards a Net Zero Carbon Supply Chain.'
The Trust has implemented a simple framework to engage those involved in their supply chain. It enabled Newcastle Hospitals to accurately report the carbon emissions, as well as identify hotspots to focus carbon reduction efforts. This programme expands reporting and action beyond scopes 1 and 2 emissions and proactively engages with the supply chain to report and reduce scope 3 emissions.
Newcastle Hospitals have already made an impressive start, enlisting more than 750 suppliers, engaging with 22% during the process and exceeding their primary target of 10%. Since the initiation of the project, other Trusts have taken inspiration reinforcing Newcastle Hospitals as a true leader in sustainable health delivery.
I know it was a big team effort and Newcastle Hospitals truly deserve the accolade. This initiative, and the people behind it, continue to drive inspiration, motivation and optimism throughout healthcare, the life sciences industry and far beyond. Fantastic efforts everyone. Let's keep up the great work!
North London Waste Authority. '102 million disposable facemasks thrown away in the UK each week would cover Wembley Pitch 232 times over'. Available at: https://www.nlwa.gov.uk/news/102-million-disposable-facemasks-thrown-away-uk-each-week-would-cover-wembley-pitch-232-times (Accessed: November 4, 2022).